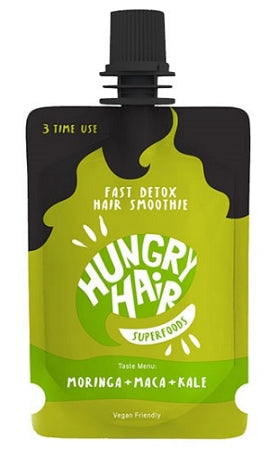 Moringa + Maca + Kale. 
Hungry Hair Fast Detox Smoothie cleanses and nourishes the scalp and hair, giving them a healthy and fresh look. Superfoods included in the formula, such as KALE, extremely rich in vitamin C and Omega acids, give the hair vitality, MORINGA extract cleanses the hair, and MACA essence increases the level of hydration. 
Feed your thirsty hair with the best, healthy and natural ingredients that you will easily find. The products are based on superfoods or nutrients of natural origin, rich in antioxidants, contain energizing, refreshing and toning substances, sole goodness for your hair. 
How to use the Fast Detox Hair Smoothie:
Apply the smoothie-mask to wet hair. 
Gently massage an leave it for 10-15 minutes on your hair. 
Rinse thoroughly. 
Attention: For external use only; avoid contact with eyes. If the product gets into your eyes, rinse them thoroughly with water. Dermatologically tested. 
[ Legal Disclaimer: Dreadz is not responsible for any person's skin/scalp reaction to any ingredients. 

If you have not tried this product before, please conduct a small, 24-hour patch test behind your ear or inside your elbow, to ensure that it is safe and appropriate for you to continue. ]